Alameda DUI
If you were arrested for DUI in Alameda County, California, you may be facing serious criminal charges for the first time. At first, it can be scary and overwhelming, but The Law Office of Robert Tayac is prepared to help you through this difficult time. We are here to answer all your drunk driving related questions.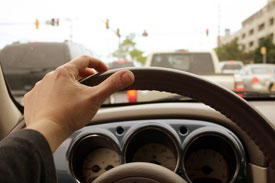 Our Firm
Since 1994, the Law Office of Robert Tayac has been successfully representing DUI clients. A California native and former law enforcement officer, Robert Tayac has the experience needed to lead his highly skilled team of criminal defense lawyers. The Law Office of Robert Tayac is ready to aggressively defend your rights and privileges.
After the Arrest
Within a month of your arrest, it is likely you will be arraigned in court on your DUI or DUI charges. If you are found guilty, heavy fines, community service, alcohol-related classes, loss of driving privileges, and jail time are all possible consequences. However, you may be able to avoid a guilty verdict if you retain a qualified Alameda County, California DUI attorney and DMV hearing lawyer.
Within ten (10) days of your arrest, it is wise to contact the DMV's Driver Safety Office (DSO) to schedule an Administrative License Suspension hearing also referred to an ALS hearing. The hearing will determine your future driving privileges, whereas only your criminal trial will determine you guilt or innocence in the charges brought against you.
Factors That Can Affect the Criminal Trial
The penalties for drunk driving in Alameda County are already set forth by California State Statutes, although, since every DUI case is different, sentences can vary based on the facts. For example, consequences will be greater if:
The details surrounding your case, policies of prosecutors and courthouses, weakness in the case found by your DUI attorney, and your attorney's good reputation can all be helpful to your case.
Finding an experienced Alameda County, CA DUI Attorney
If you would like to discuss your case with the experienced criminal defense attorneys at The Law Office of Robert Tayac, please visit us at 600 Montgomery Street, Suite 210, San Francisco, California 94111, contact us by email, Alameda DUI Lawyer, call us at (800) 901-1888 to schedule your free consultation.
Home > Alameda DUI