Alameda DUI Criminal Court Proceedings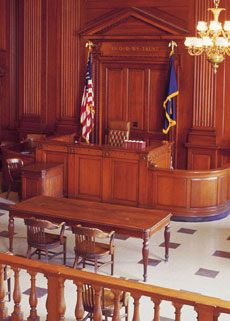 Being arrested on suspicion of driving under the influence in Alameda County, California can be frightening. You may be just learning about the complexities of DUI law. An arrest for drinking and driving generates two separate proceedings: a criminal court trial and a DMV hearing.
To make a drunk driving arrest, an Alameda County Sheriff must have had "probable cause" to pull you over. Signs of intoxication could have been your appearance or driving patterns. After the arrest, there are many steps to take in order to resolve this serious matter. Your skilled and experienced DUI defense attorney and DMV hearing lawyer in Alameda County will help you through the following steps:
Posting Bail or Bond
After being arrested, it is possible you may be released from jail on your own recognizance, meaning you agree to appear in court for your DUI arraignment. However, you may be kept in custody until released with bail or bond. Paying bail or bond also is agreement to appear in court for your arraignment. If you are not released on your own recognizance or cannot make bail, you must be arraigned within 48-72 hours.
Arraignment takes place in criminal court where you have the right to a judge and jury. Although you also have the right to a public defender, we highly recommend you retain a DUI and DMV hearing lawyer. At the arraignment, your can expect the judge to advise you of the charges filed against you, at which time you will also be asked to enter a plea of guilty, not guilty, or no contest. During your arraignment, you have the right not to incriminate yourself, the right to analyze evidence to be used against you, and the right to confront any witnesses.
Pretrial motions may be presented at the arraignment or at a future hearing. These include motions such as "suppress evidence," "discovery," and "dismiss." An experienced Alameda County, CA, DUI lawyer at the Law Office of Robert Tayac is available to explain these motions in greater detail.
The Trial
Once a trial date is set, it must begin within ten (10) business days of that date or your case must be dismissed. You have the right to a speedy trial.
Before the trial begins, a jury will be selected by both the prosecution and defense. Prospective jurors and may be dismissed by either attorney.
Criminal trials usually last for several days. As the trial begins, opening statements are given. Throughout the trial, you can expect evidence to be entered, witnesses to testify, and closing arguments to be given—all by both prosecution and defense. At the conclusion of the trial, the judge instructs the jury and the jury deliberates until a verdict is given.
Sentencing
If you are found guilty of a DUI, the judge will decide your punishment, which may already be defined within California State Law. Again, depending on the details surrounding your case, there may be variances in sentences.
Specialized DUI Attorney Services
If you have been charged with drinking and driving, you will need a DUI lawyer to protect your interests and see that you are treated fairly. You have the right to appeal any criminal conviction.
Please visit the Law Offices of Robert Tayac at 600 Montgomery Street, Suite 210, San Francisco, CA 94111, call (800) 901-1888, or email, Alameda DUI Lawyer, as soon as possible.
Home > Alameda DUI > Alameda DUI Criminal Court Proceedings